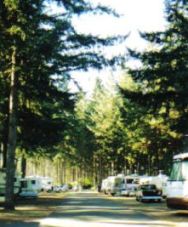 Olympia Campground is open all year to travelers.
Full hookup rv sites have 30 amp service, water, and sewer. Partial hookup sites have 20 amp power and water. The majority of our RV sites are pull-thru, please call for availability. Tent sites are available seasonally, and weather permitting. Two camping cabins are available for rent; each one has a double bed and a bunk bed, and sleeps up to 4 people comfortably. Cabin campers must bring their own bedding and cooking supplies.
The Campground is set in a 10 acre forest of tall firs.
Every site has a picnic table. The full hookup sites are side by side, and do not have fire pits. The partial hookup sites are in the middle of the park in a wooded setting, and most have firepits. Tent sites are in the most forested area at the back of the park without hookups. The rear of the park has communal water spigots and convenience toilets.
On-site Services and Amenities include our convenience store and gas station stocked with ice, water, firewood, soda, snacks, coffee, beer, wine, fuel, diesel, propane, free air and water, and an We also have a heated pool, open seasonally and weather permitting; TV/game room; laundry facilities; WiFi hotspots; and an RV dump station for our registered guests.
Nearby Services and Attractions
Costco, Fred Meyer, Home Depot and WalMart are just up the road! Enjoy shopping and dining options, service your truck, get your hair done, see the doctor, and more. There is a 9 hole golf course and driving range, as well as a middle school track, all within walking distance. Beautiful Tumwater Falls is just 3 miles away. Check out our Area attractions page for one of the most comprehensive lists of information on visiting Olympia and the Pacific Northwest.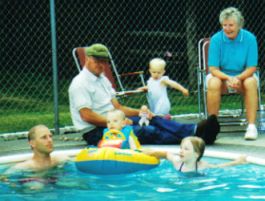 Olympia Campground is located just 6 miles south of Olympia, Washington with easy access to Interstate 5. It is a favorite stop for travelers, halfway between Portland and Seattle. Many use it as a base camp for day trips in all directions. We do not have cable TV, but the park is very nice, clean, and friendly.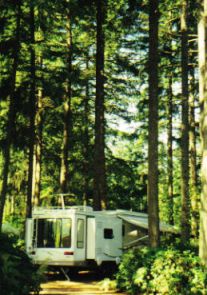 Testimonial...

Priscilla and Ken Rhodes sent us a book they had written in 2003 about their travels.

The book is titled "Discover America Diaries", and this is what they wrote about Olympia Campground...

"Wrapped in Fir"...

"I love this campground...

...filled with Douglas Firs that reach high into the sky.
A full regiment of these stately trees fills our camp space
like Buckingham Palace guards...protecting our privacy."